Book now
Request an appointment
Book now
Talk to a specialist
* Mon-Fri, 10am-6pm, Sat, 10am-5pm
Dr Raul Cetto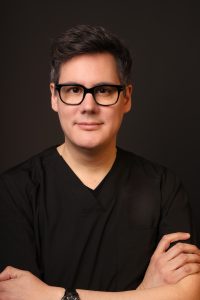 Dr Raul Cetto trained in Otolaryngology and Head and Neck Surgery at Imperial College Healthcare where he undertook a PhD in the field. He subsequently specialised in non-surgical facial aesthetics and medical education, completing a post graduate Certificate in Aesthetic Medicine and a master's degree in medical education. He founded Clinic 1.6 in London in 2015.
 
Dr Cetto has devoted a large part of his career to his passion for teaching which led him to complete a master's degree in medical education and establishing a world class medical training facility Aesthetic Medicine Pathways. He is an international educator and has presented his work in some of the largest conferences in his field and has travelled to over 40 countries lecturing, presenting his work, and offering hands on training.
 
Dr Cetto has authored several peer reviewed publications in this area and co-authored the best-selling book facial ageing and injection anatomy. 
He is also a Medical advisor and international faculty member of one of the largest producers of Hyaluronic Acid dermal fillers in the World, Swiss manufacturer Teoxane, makers of the RHA Collection of dermal fillers and American distributor Revance.
Alongside non-surgical aesthetic treatments, Dr Cetto has an aspiration to advance the use of dermal fillers to correct the effects of medical conditions, for example he can improve asymmetries seen in facial palsies including Bell's palsy, correct cleft lip scars, non-surgical nasal valvo-plasty and perform non-surgical rhinoplasty. Having training in ENT surgery, Dr Cetto has a particular interest in performing nasal valve collapse correction, often producing immediate improvement in quality of life for his patients.